I don't know an brand Elf Bar before a couple of years ago, and had I ever heard of a chargeable disposable vape. Upon opening the box, I was intrigued by the way it looked.
Today we are reviewing the ELF BAR 800 DISPOSABLE POD and commenting on its performance; including its 550mAh battery, Puff: 800 Puff and their range of flavors.
When first taking it out of the box I tried to hit it and it wouldn't allow me to draw. Turns out there is a piece of tape on the bottom covering the blowhole (the thing that looks like a recycling icon) that must be removed before you can start vaping. It keeps everything fresh for shipping and storing, but you will want to remove that little flavor saver before you start vaping. Coincidentally if you fat-finger the air hole it will not hit either until you remove the offending digit.
The ELF Bar 800 disposable pod is a nifty, lightweight and beautifully designed pod system that takes convenience vaping to a whole new level. With a beautifully slim and thin mouthpiece that's ultra comfortable, a decent sized battery and a 5% nicotine strength, the ELF Bar 800 is guaranteed to give you a long-lasting vaping experience that won't die on you when you need it the most. We love the smooth matte finish on the body of the pod that hides fingerprints well and makes it look clean all the time. It comes in a vacuum sealed packaging to help maintain freshness.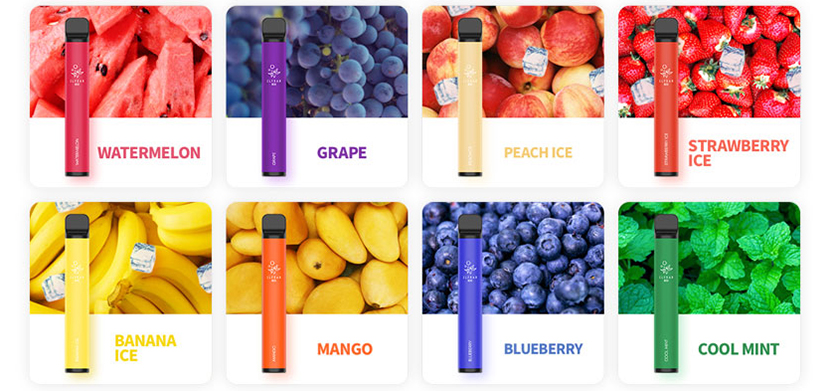 Overview
ELF BAR 800 DISPOSABLE POD DEVICE is a disposable pod device and is available in 8 different colors/flavors,Watermelon,Grape,Peach ICE,Strawberry ICE,Banana ICE,Mango,Blueberry,Cool Mint
Coconut Melon: Icy coconut with a nice melony twist
Banana Ice: Icy banana aromas all day long
Blue Razz Lemonade: Sourish lemonade with blue raspberries with an icy kick
Kiwi Passionfruit Guava: A fruit punch of sorts with a twisted passionfruit guava combination. Icy to the last puff
Cool Mint: Icy menthol blast like a cooling menthol cigarette
Pink Lemonade: Sourish lemonade with a juice strawberry taste on the exhale with an icy kick
Watermelon: Pure juicy red watermelons with a breezy, cooling vibe
Grape: Juice grapes with a breezy, cooling vibe
Strawberry Ice Cream: Classic indulgent creamy strawberry ice cream fresh from the freezer
Creamy Tobacco: Hints of creamy vanilla with a light tobacco feel. Zero cooling.
Blueberry: Bright blueberry with an icy cool vibe
Mango: Luscious sweet mango, dripping with juice, with a cooling exhale
Latte Ice: Milky coffee with an icy exhale. Really nice!
Vanilla Custard: Creamy Vanilla with light menthol
Bobba Milk Tea: Bouncy brown sugar bobba with an icy hit
Strawberry Vanilla: Indulgent creamy vanilla with hints of sweet strawberries
Banana Milkshake: Milky Banana smoothie with an icy hit
The Elf Bar has some really nice flavours but most of them contain menthol.
The ELF Bar comes in a variety of flavour options from creamy to fruity and only one tobacco option.
Their creamy flavours like creamy tobacco and strawberry ice cream taste rich, bold, very direct and easy to distinguish. It stays very true to the name of the flavour, with crystal clear and unclouded without too much tinkering or complexity. You can enjoy really nice aromas and none of these flavours taste too sweet on the tongue.
For their fruity flavourslike lychee ice, watermelon, grape, coconut melon and blue razz lemonade, are excellent with realistic aromas that are really pleasing. For example, their coconut melon flavour really tastes of a rich coconut cream mixed in with some cantaloupe. You get both flavours very clearly on the inhale and exhale.
But unfortunately, most of them contain a medium to high amount of menthol so if your'e not into that, you might not like it. But on the other hand, we find that for a disposable pod, it really provides excellent taste that's on par with what you can expect from a normal pod system (that isn't disposable). If you want to vape for taste – this provides fantastic flavours.
Remember that the goal of disposable vape device is to deliver nicotine satisfaction and similar experience to a traditional cigarette. So being a disposable device, the manufacturers limit the puff count, the battery life and the amount of liquid inside it. Once the battery runs out or the juice starts to taste burnt or foul, it's time to check it out.