Elf Bar 800 Disposable Pod Device 550mAh
Elf bar 800 ialah kit pod pakai buang  dengan reka bentuk yang kecil dan Terdiri daripada bateri 550mAh dan pod pra-isi 3.2ml, ia menyokong maksimum 800 sedutan. Aliran udara yang tepat berfungsi dengan baik dengan voltan sempurna untuk memberikan anda rasa yang baik. Bersama-sama dengan 5% kekuatan nikotin/2% nikotin dan pengaktifan cabutan pantas, bar Elf 800 ini ialah pilihan yang baik untuk vape harian anda.
Saiz: 16x104mm
Kapasiti e-jus: 3.2ml
Kekuatan nikotin: 5%
Nikotin Bateri: 550mAh
Puff: 800 Puff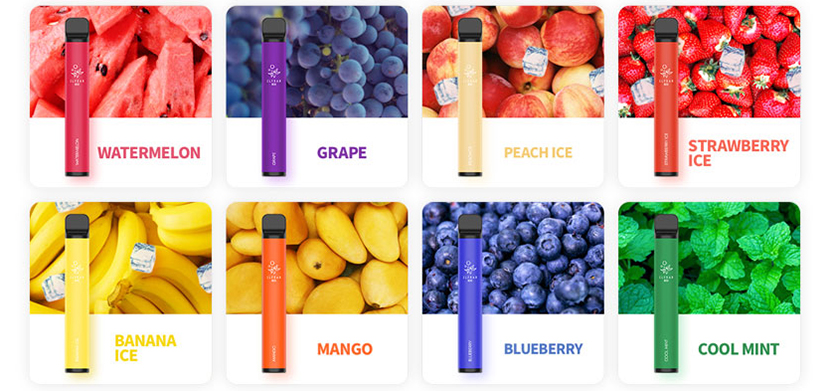 Flavor:
Coconut Melon: Icy coconut with a nice melony twist
Banana Ice: Icy banana aromas all day long
Blue Razz Lemonade: Sourish lemonade with blue raspberries with an icy kick
Kiwi Passionfruit Guava: A fruit punch of sorts with a twisted passionfruit guava combination. Icy to the last puff
Cool Mint: Icy menthol blast like a cooling menthol cigarette
Pink Lemonade: Sourish lemonade with a juice strawberry taste on the exhale with an icy kick
Watermelon: Pure juicy red watermelons with a breezy, cooling vibe
Grape: Juice grapes with a breezy, cooling vibe
Strawberry Ice Cream: Classic indulgent creamy strawberry ice cream fresh from the freezer
Creamy Tobacco: Hints of creamy vanilla with a light tobacco feel. Zero cooling.
Blueberry: Bright blueberry with an icy cool vibe
Mango: Luscious sweet mango, dripping with juice, with a cooling exhale
Latte Ice: Milky coffee with an icy exhale. Really nice!
Vanilla Custard: Creamy Vanilla with light menthol
Bobba Milk Tea: Bouncy brown sugar bobba with an icy hit
Strawberry Vanilla: Indulgent creamy vanilla with hints of sweet strawberries
Banana Milkshake: Milky Banana smoothie with an icy hit