Hello Every one:
I am Micheal from myvapor in China.
we're going to be taking a look at a new development in vaping tech, disposable vapes which are taking the entire industry by storm and changing the way many look at vaping.
we can compare different disposable vapes with each others
Previously viewed with suspicion by the true vape believers, disposables have provided thousands of former smokers and prospective vapers with a way of testing the waters of vaping without having to take the plunge of purchasing a pricy unit and vape juice before they know it's right for them.
Disposable vape kits are the most portable, simple, and discrete vapes you can buy.Explore our collection of high-quality, affordable, and ready-to-vape disposable vape kits and puff bars. We recommend VoltBar, Elf bar and Innokin Ifrit Flowetc. Disposable vapes are a cheap and simple way to try vaping for the first time. Incredibly popular with new vapers, these inhale activated vapes require zero experience to use and don't need to be refilled or recharged. In fact, for a lot of people, they are the only type of vape they'll ever need. A disposable is very compact and each device on average will outlast 20 cigarettes – at a fraction of the price.
With disposable vapes, there's no need to learn things about wattage, vg/pg ratios, ohmage, how to change coils, all that mucky messy stuff that seasoned vapers can recall at a moment's notice. You simply purchase the disposable vape, take the rubber seals off the ends and start puffing until it won't produce any more vapour, at which point you toss it away!
It's the very frontier of convenience in vaping, a simple pre-filled and pre-charged stick to get you through whatever event you'd prefer not to smoke during.
Take a look down below as we round up seven of what we consider to be the best disposable vape pens currently available. Each has something special to it that's likely to make it stand out as the perfect disposable vape for you. Let's take a closer look at some Saturday night specials!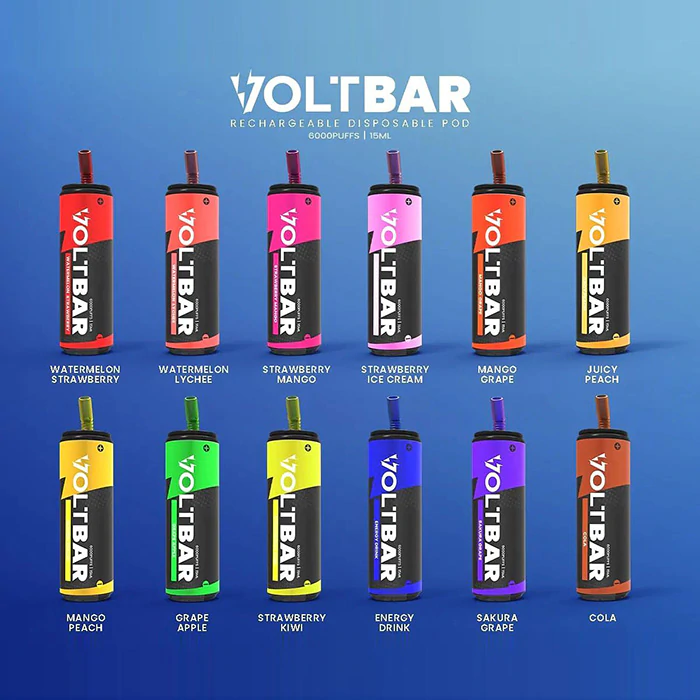 Volt bar 6000 menampilkan Bateri boleh cas 650mAh (Port type-C) dan kapasiti pengabut 15ml. Ia boleh bertahan sehingga 6000 sedutan. Supaya anda boleh menikmati masa vape yang lama. Setiap peranti volt bar 6000 pra-isi mengandungi 15.0mL jus vape dan didatangkan dalam pelbagai perisa yang berbeza. Volt bar Disposable menggunakan mekanisme penembakan diaktifkan seri, anda hanya perlu menjajarkan corong silinder dan menyedut untuk merasai rasa yang sebenar dan licin. rasa dan reka bentuk ultra-kompaknya akan membuatkan anda inginkan lebih banyak lagi.
VoltBar Disposable 6000 Spesifikasi
Puff : 6000 Puff
Isipadu : 15ML Flavour Penuh
Pengecasan: Boleh dicas semula dengan type-C
Perisa : 15 Perisa Barisan
incredibly flavoursome, naturally sweetened yet with tobacco flavours available in a variety of nicotine strengths. And of course, totally recyclable. It is inspiring to see a company like Riot Squad leading the charge on sustainable manufacturing in vape production, and the VOLTBAR goes to show that you don't have to sacrifice even a drop of satisfaction in order to produce a vape which you can use in total confidence as to both it's effective relief and it's biodegradability.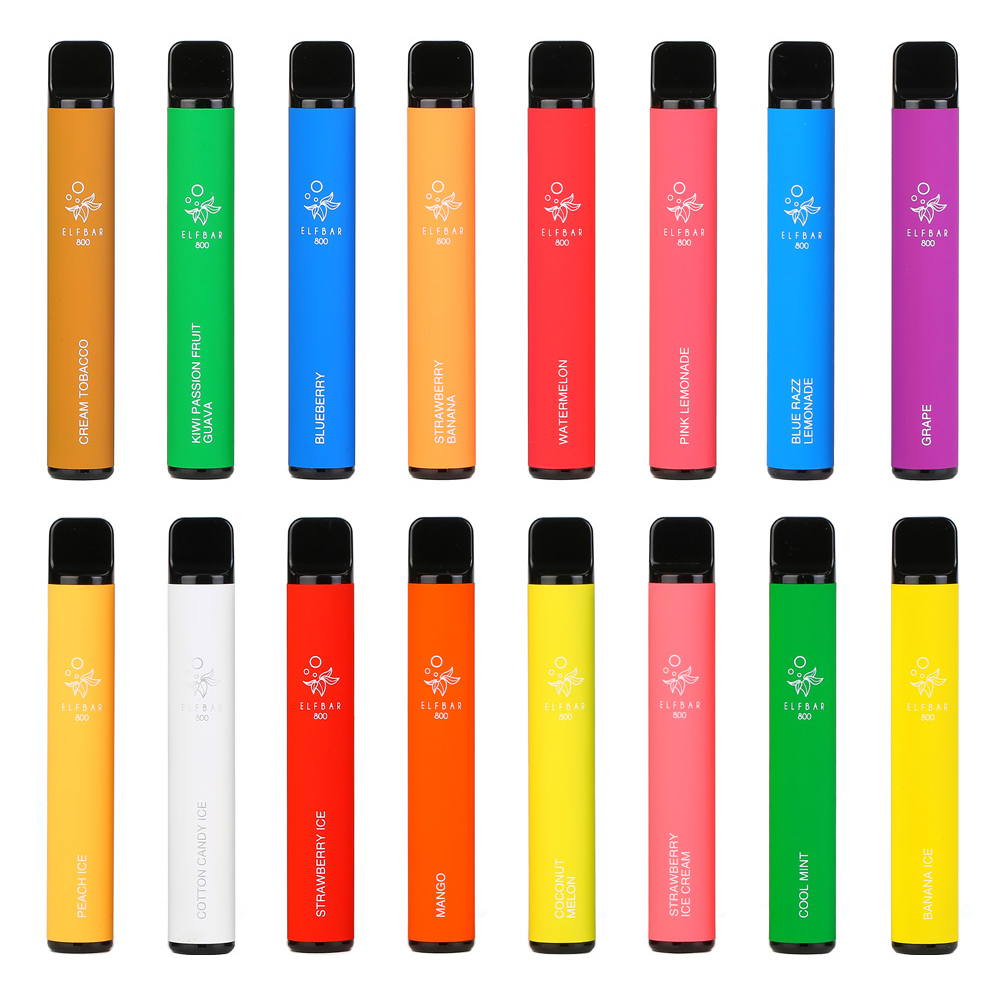 Elf bar 800 ialah kit pod pakai buang  dengan reka bentuk yang kecil dan Terdiri daripada bateri 550mAh dan pod pra-isi 3.2ml, ia menyokong maksimum 800 sedutan. Aliran udara yang tepat berfungsi dengan baik dengan voltan sempurna untuk memberikan anda rasa yang baik. Bersama-sama dengan 5% kekuatan nikotin/2% nikotin dan pengaktifan cabutan pantas, bar Elf 800 ini ialah pilihan yang baik untuk vape harian anda.
Saiz: 16x104mm
Kapasiti e-jus: 3.2ml
Kekuatan nikotin: 5%
Nikotin Bateri: 550mAh
Puff: 800 Puff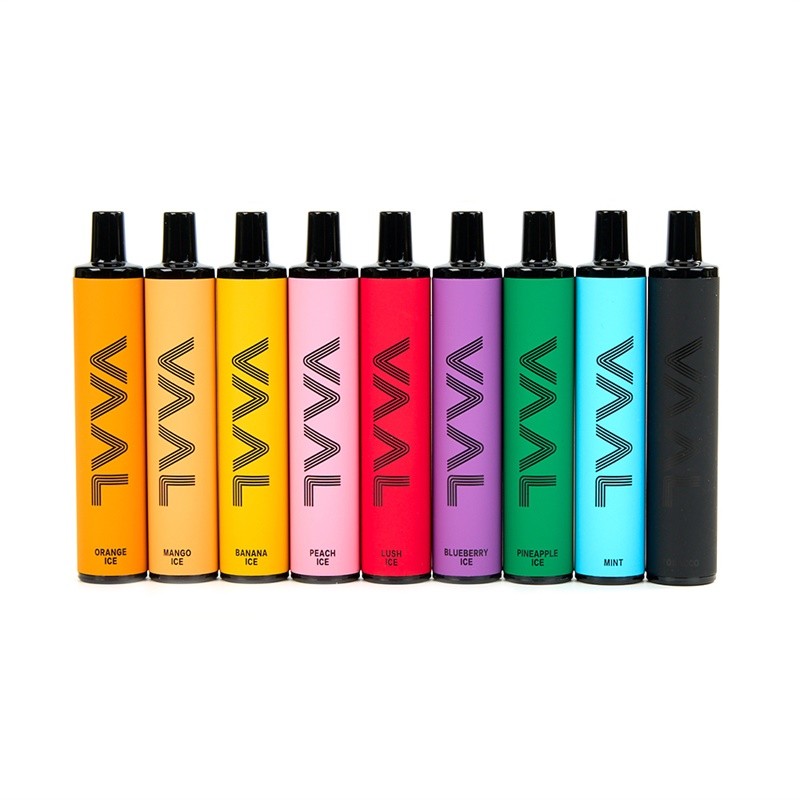 Joyetech VAAL 1500 ialah kit pod pakai buang pertama Joyetech. Ia mempunyai kapasiti bateri 950mAh yang besar dan kapasiti pengabut 5ml. Ia boleh bertahan sehingga 1500 sedutan. Supaya anda boleh menikmati masa vape yang lama. Setiap peranti  Pakai VAAL 1500 yang telah diisi mengandungi 5.0mL jus vape dan didatangkan dalam pelbagai perisa yang berbeza. Setiap peranti didatangkan terlebih dahulu dengan 5% atau 3% cecair nikotin berasaskan garam dan sedia untuk mengvape terus dari bungkusan. Joyetech VAAL 1500 Disposable menggunakan mekanisme penembakan diaktifkan seri, anda hanya perlu menjajarkan corong silinder dan menyedut untuk merasai rasa yang sebenar dan licin. Tanpa semua kerumitan pod dan gegelung. Sebaik sahaja anda mengambil Puff daripada VAAL 1500, rasa dan reka bentuk ultra padatnya akan membuatkan anda inginkan lebih banyak lagi. Pen vape padat ini sesuai untuk pemula dan vape lama yang menikmati vape yang cepat dan mudah semasa dalam perjalanan.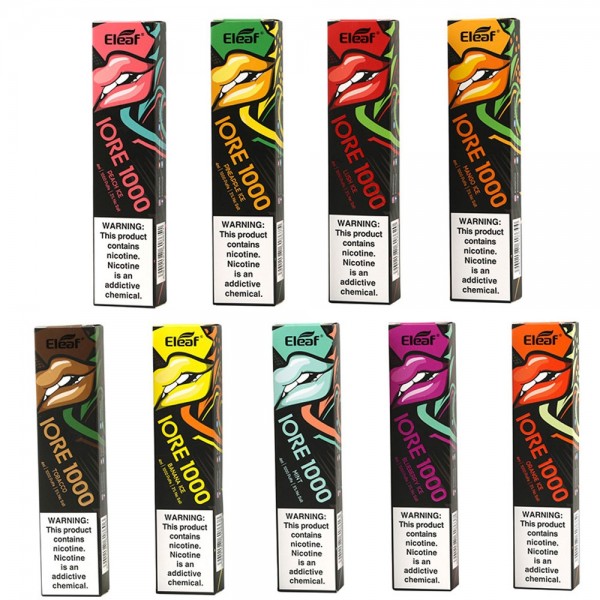 Eleaf IORE 1000puffs Disposable Kit mempunyai saiz yang lebih besar sedikit jika dibandingkan dengan IORE 500 dengan lebih hayat bateri dan lebih banyak jus di dalamnya. Dengan penampilan pelekat yang lebih bergaya dan reka bentuk pod transparents, pakai buang IORE 1000 memenuhi keperluan individu anda. Tanpa butang atau sebarang tetapan yang mengelirukan, pakai buang IORE 1000 sedia untuk dikeluarkan terus daripada pakej. Menyokong bateri 850mAh dan sistem cabutan terus, peranti pakai buang IORE 1000 mempunyai kuasa yang mencukupi untuk memberikan rasa yang sangat baik tanpa sebarang pengecasan atau pengisian semula. Anda hanya perlu menyedut peranti untuk mengaktifkannya. Dilengkapi dengan 4ml jus vape dan 50mg  nikotin, anda akan mempunyai cita rasa tropika yang mudah ini di tangan ke mana sahaja anda pergi. Kit pakai buang IORE 1000 menjadikan vape mudah dengan sehingga 1000 sedutan setiap peranti dan banyak perisa untuk dipilih. Ia juga mempunyai bahan gred makanan dan pod lutsinar untuk menyemak jumlah e-jus yang tinggal dengan mudah. Pemegang rokok rata sesuai dengan bibir anda dan menyediakan proses menarik mulut ke paru-paru yang lancar. Jalur pengedap atas perlu dicabut sebelum sedutan pertama. Reka bentuk Pull & Vape membantu mengekalkan kedap udara dalam pod, dan rasa cecair lebih asli.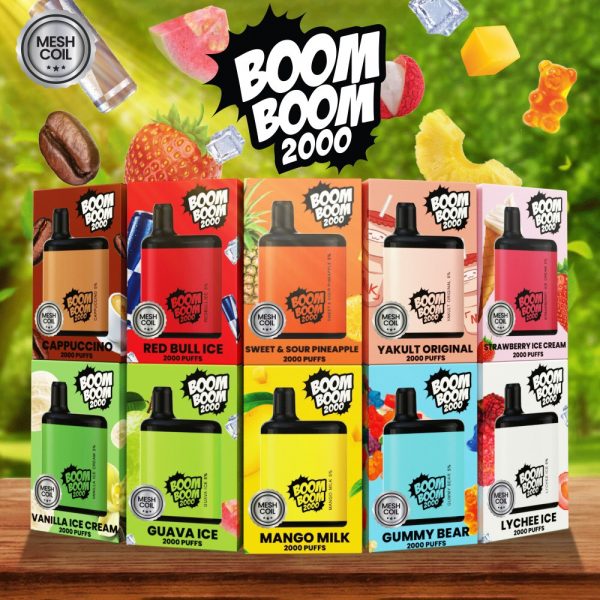 BOOM BOOM 2000 PUFFS menggunakan teknologi MESH COIL untuk memberikan rasa yang lebih reflektif berbanding pod pakai buang yang lain.
Saiz: 67.5 x 42.5 x 25.5mm
Kapasiti E-cecair: 8ml
Gegelung: Gegelung Mesh
Bateri: 400mah (Boleh dicas semula)
Masa Dicas Penuh: 30minit
Sedutan: 2000 sedutan
Thanks for checking out this roundup of the best disposable vapes around! If you've enjoyed reading this article and found it helpful, then please check out some of the links below for more education and entertaining news, reviews and attitudes within the vaping culture.